All-On-Four Full Mouth Reconstruction
If you've suffered devastating dental trauma, or multiple tooth loss, you may feel there are no options but dentures. The social stigma of missing teeth is not a rare problem. In fact, over 30 million people struggle with this problem in the US alone. If you feel this is your situation and are considering dentures—STOP. There is a much better option, you don't have to settle for a band-aid solution when there is a permanent one.
Dr. Nicole Mackie, founder of Nevada Dental Implant Specialists is the leading provider of dental implants in Las Vegas. Dental implants are the permanent solution to the temporary problem of tooth loss. While dentures merely mask the problem of missing teeth, dental implants correct it and seamlessly so.
Dr. Mackie uses the revolutionary All-on-Four dental implant method that can restore your smile in a single visit. Yes, just one visit—that means no more denture slippage, messy adhesive, speech issues, or missing on foods you love. With the All-on-Four procedure performed right here in our Las Vegas facility and our on-site lab, you can have a perfect smile by design.
Types of Dental Implants:
Full Arch Implant Bridges

Full Arch Implant Fixed Prosthesis

Full Mouth Reconstruction
Why the buzz with dental implants in Las Vegas?
To fully comprehend this procedure and the buzz surrounding it, you need to learn a bit about dental implants. A dental implant, in a nutshell, is a medical-grade titanium screw that is anchored into your jawbone. It is then fitted with a
dental prosthetic crown
(restoration) made from advanced materials in a lab. These crowns are indistinguishable from natural teeth. Additionally, they have the same hardness, feel, and capabilities of natural teeth. In short, you can have a brand-new tooth that will never decay and will last the rest of your life. While dental implants are nothing new, this method of implantation and full mouth reconstruction is a big deal for your smile. In fact, it's a procedure that requires extensive specialized training in order to perform it on a patient. The results are worth it and patients are having their lives changed by this revolutionary procedure.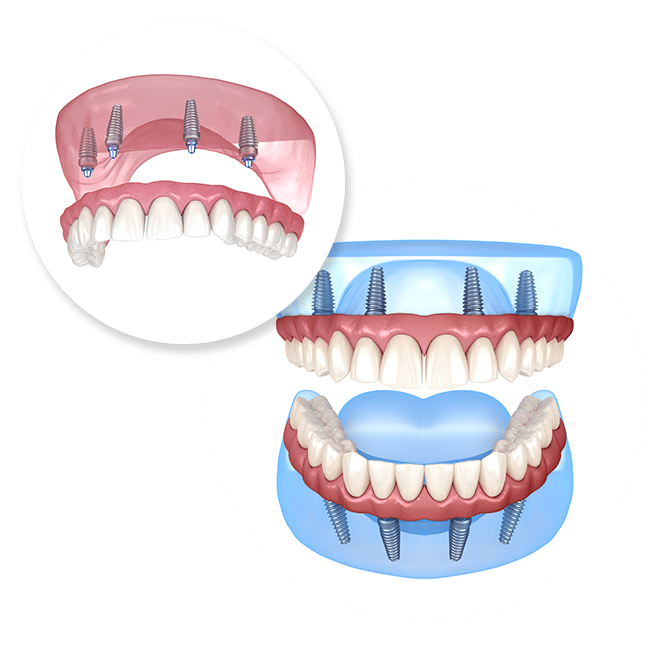 Why All-On-Four is so revolutionary
With most traditional dental implants, the process takes several visits to be completed following the first consultation. Typically, the first visit is for the implant placements, each one is implanted individually. You then are sent home to let it heal over a few weeks. The second visit is where the replacement crown is permanently affixed to the implants completing the procedure. Where the All-on-Four procedure differs is that rather than individually placing implants, we use just four implants for each arch. This is because rather than use individual restorations one-by-one, we use a prosthetic denture. Don't be confused by that word, it is not the same kind of denture most patients think of. This is a modular prosthetic device that has a full arch of custom-designed teeth on one piece, anchored to four implants. This has a two-fold purpose; it reduced pain, swelling and recovery time as well as mitigating downtime. Also, because just four implants are used to anchor the denture, it is much more stable.
Better for your smile, better for your health
All-on-Four is as personalized as dentistry can get—you literally get to design your own smile with Dr. Mackie.  However, while dental implants in Las Vegas are restoring people's smiles aesthetically, it also greatly improves their health.  The replacement teeth we install never rot, so you will never deal with tooth decay. They will last a lifetime with continued proper oral hygiene—and that is an important point.
Just because your new teeth won't rot, doesn't mean you can slack on hygiene. You can still develop gum disease from residual bacteria buildup. All in all, you get a brand new smile that is unique to you and perfectly fit. You can't get that with dentures and dentures can end up costing just as much as implants.
Dentures on average, need to be replaced every five years or so. This is because dentures don't help the jawbone at all. When you lose teeth, the jawbone deteriorates over time causing facial distortion and changes in alignment. If you have dentures, this means every few years, you need to have dentures remade to adjust to structural changes. 
The average cost of good dentures is anywhere from $4,000 to $5,000 dollars. Every five years you could be spending that to replace them. That adds up real quick—so why put yourself in that bind? What you really need is something permanent and All-on-Four is that solution.
Is All-On-4 a good fit for you?
It is if you are seeking a permanent solution for the loss of your teeth, whether upper, lower or both arches. Keep in mind that it is still a surgical procedure, so there are still some minimum qualifications in order to proceed. The two main qualifiers are having healthy gums and a sufficient amount of healthy bone left in your jaw. If either one is lacking the success rate for the procedure is jeopardized and we cannot proceed. However, gum disease can be treated and with insufficient jawbone, there is the possibility a bone graft would work. These procedures would, of course, lengthen the process and you would need several visits.
Smile again with the best dental implants in Las Vegas
Dr. Mackie has assembled a stellar team of patient-centric dental assistants, hygienists and front office staff. When you come to Nevada Dental Implant Specialists you are coming to a family, and you are treated as such. Dr. Mackie is the most experienced prosthodontist in Nevada and will get your smile exactly as you like it.
Contact us today, we're ready to make you love your smile.